ONE-OF-A-KIND LUXURY CUFFS
We take beautiful antique and vintage jewels ~ Victorian, Edwardian, Art Nouveau, Art Deco, Retro, and Modernist ~ and reimagine them into one-of-a-kind, handmade, modern leather cuffs.
Take a Look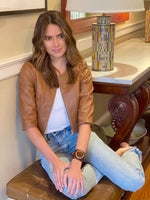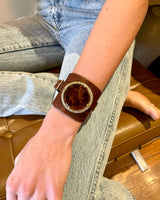 THE ELEANOR STONE NYC COLLECTION
Cuffs are made of thick, luxe Italian leather that wraps around your wrist. Completely handmade and unique, our cuffs are the perfect combination of old world elegance and modern chic…uptown glamour meets downtown edge. 
Every cuff makes a statement, has a name, and tells a story. 
SHOP NOW

THE SKINNY
...is the newest addition to the Eleanor Stone NYC family. Handmade from the same luxe Italian leather, "The Skinny" is designed with a double wrap thinner strap that features a vintage or antique jewel. We love this new option in our one-of-a-kind, vintage-meets-modern lineup. It's a classic look with a modern vibe—and adds instant "coolness" to every outfit.
SHOP THE SKINNY
Testimonials
I will treasure this piece from my grandma and can't wait to wear it! It is exquisite. I am speechless. There are no words. Ok, here's a word: Obsessed!

Hillary B..
I love leather and am hopelessly addicted to cameos, and OMG I love it!

Lisa W.
Love all three of my pieces! I have two on vacation with me and always get compliments. A girl can never have too many Eleanor Stone NYC cuffs!

Mary D.
The best revenge for a crappy week is having fun with "just one cuff!"

Suzy B.
I love my new cuff. Thank you Eleanor Stone NYC for creating this beautiful Bespoke piece for me. This was my father-in-law's belt buckle, and look how we transformed it! Love!

Meg E.
Your cuffs are my favorite eye candy...beautiful pieces that will be loved for a lifetime! And, I love my new "skinny!"

Lisa S.
Thanks Eleanor Stone NYC for designing these beautiful, one-of-a-kind pieces. I love mine!

Maryann L.
Toughened up my bracelet stack a bit today! Obsessed with my new Eleanor Stone NYC cuff!

Sara Jane M.
Thank you for the beautiful bracelet and for allowing me to always have my dad close to me.

Liz S.
Did you know?
Our Cuffs Are Handmade
Every cuff is handmade and one-of-a-kind, which means no one else will have the same one!
We Are Sustainable
Our cuffs are created using vintage and antique jewelry ~ We celebrate the past, and also, help the earth!
We've Got Girl Power!
We are a women-owned business, and believe in the power...and the future of women.